First Cut: LG L90, L70, L40 ._._._._.
Posted by : Rather Asif
Friday, March 7, 2014
The L III series smartphones come armed with decent features. Read on to know more.
At the event, The Mobile Indian managed to spend some time with the devices and here is our first hand experience of the devices.
LG has showcased several handsets and gadgets at the LG Tech Show 2014 in Delhi-NCR. Among the devices include the recently announced LG LIII series Android smartphones. Though LG has not said anything about their price or availability, an LG official told us that they are going to be launched in the Indian market in 2-3 months.
This seems to be the costliest among the three which is quite palpable from its appearance as well as specification. First of all, it comes with a 4.7 inch True IPS display- the biggest among the three. Despite having such a big display, the phone feels a lot lighter, chiefly due to the prudent design. The highlight of its design is its minimal bezel surrounding the display. The phone is quite thin as well. The rear panel has a textured design but it does not feel that good and would create problems for sweaty palms. The phone is entirely plastic and the moment you touch it, you will get to know about the same.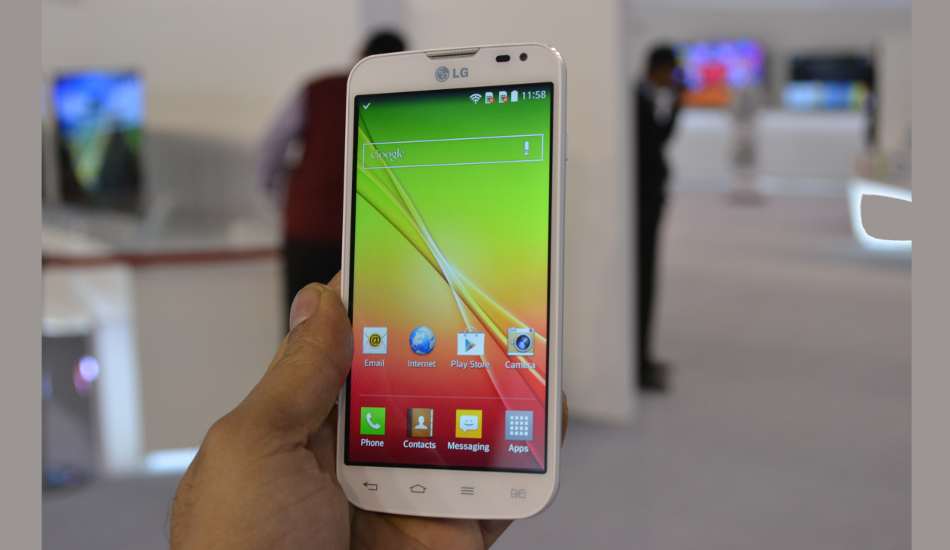 The display however looks great despite having only qHD resolution. Though its brightness seems sufficient, we did not had a chance to check the same in bright outdoors. The display is also has Corning Gorilla Glass 2 protection that should provide it some protection against scratches.
The LG l90 has a dual
SIM
slot which are located beneath the back panel. Under its display there are four touch icons of which one is meant to switch the default SIM while the other three are for return, home, and stetting shortcuts. The micro USB port is located at the bottom; the 3.5 mm jack is at the top. The volume rocker and the power buttons are on right and left hand side respectively.
The LG l90 is armed with a 2540 mAh battery which should provide it decent talktime. At its rear lies an 8 megapixel camera with BSI sensor. To assist the camera, there is an LED flash light. We captured few images using this camera indoors and it managed to click decent images but more research in that regard is to be done. The rear camera though is said to be capable of capturing full HD videos. In the front it has a
VGA
camera which is decent for video calls and selfies as well.
The LG l90 has a quad core processor as well. To assist the processor, the LG l90 has 1 GB RAM. It comes with 8 GB internal storage and 32 GB micro SD card slot as well. It has Android 4.4.2 KitKat operating system and it comes with a modified user interface. The highlight of its interface is the KnockCode feature that allows you to set a personalised pattern for home screen access which looks good in our first interaction.
LG l70 too comes with a textured rear panel but it does not look that attractive as the l90. It has also a smaller 4.5 inch display and that too with a bit lower resolution - 400x800 pixels. The display thus looks a bit dull but it is a True IPS screen and has good viewing angle. The phone also felt quite light in hands despite having a good 2100 mAh battery.
The differences between l90 and l70 are not superficial; they are quite different in terms of hardware too. To start with the l70 has a 1.2
GHz
dual core processor and only 4 GB ROM. It has though 1 GB RAM and a 32 GB micro SD card slot. The phone felt quite fast during our brief encounter but ofcourse in absence of proper testing, we will like to reserve our judgement.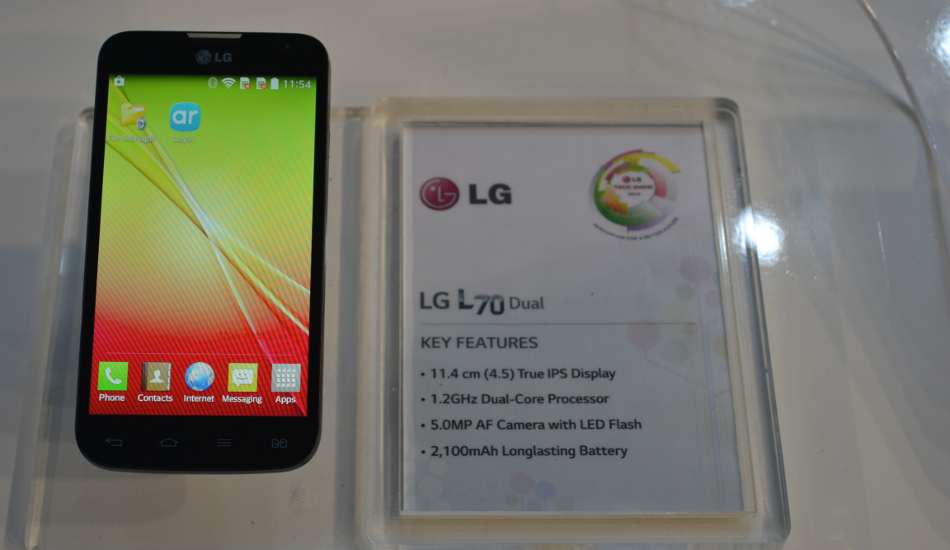 The LG l70 has a 5 megapixel rear auto focus camera. There is an LED flash besides the rear camera as well. The few snaps we clicked using this camera at the venue did not look that great; a slight zoom clearly showed grains. Note that an 8 megapixel camera bearing LG l70 was also showcased at the Mobile World Congress event last month; we would have like to see that in India. It has a VGA camera in the front which should be good enough for video calls.
It comes with Android 4.4.2 KitKat version as well and has the KnockCode feature that allows you to set a personalised pattern for home screen access which looks good in our first interaction.
It is the cheapest model in the LIII series as of now and thus comes with low end features that you would find in low cost Android smartphones.
To start with the LG l40 has a 3.5 inch display but unlike many low cost Android smartphones, this employs a True IPS unit which provides good viewing angle. This display has only 320x480 pixels resolution which is bare minimum for a display. We did not had a chance to check its brightness in bright outdoors either.
The LG l40 is armed with a 1.2 GHz dual core processor. This is backed up by 512 MB RAM which should be enough for low end games and a hiccup free day to day use but we haven't examined it thoroughly and thus would like to reserve our judgement till a full review.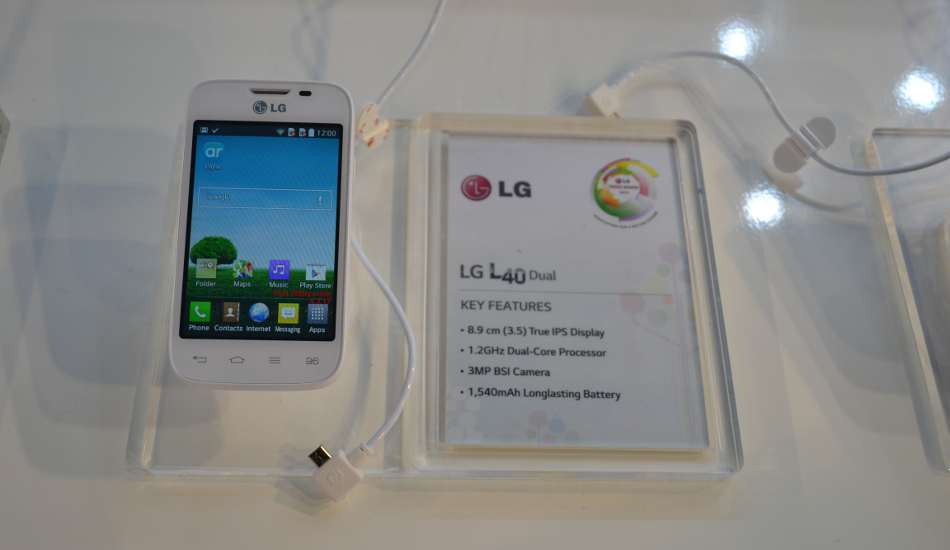 Camera wise also the LG l40 does not look that good with its 3 megapixel camera with BSI sensor. Few images that we clicked using its rear camera looked quite grainy. Moreover it neither has a flash or a front camera.
Like all other L III series handsets, the l40 too has a dual SIM slot with a dedicated SIM-switch key below the display. Besides, it too comes with the KnockCode feature.
The LG l40 has a 1540 mAh battery which much bigger than what one would look from a handset with a 3.5 inch display. Thus we expect it to provide very good battery back up but again we would reserve our judgement regarding the same till a though review of the l40.
LG has not able to penetrate the low end Android segment due to stiff competition. The new LIII series has decent features but their pricing would be crucial to their fate. For instance, the l90 looks and feels really great. It has also the necessary hardware to succeed in the Indian market but it would only be attractive if it is priced at or below Rs 15,000; above that it may not have enough buyers.
The scenario for l70 and l40 looks more dire. To start with they lack a good display as well as camera - two essential features for success in the Indian market. However, all the LIII series handsets have good user interface and huge batteries that may attract the Indian buyers.
LG has not revealed their pricing or availability details for India. We will try to review the handsets as soon as they are launched in the market.
Pages